Jiang Hong Jie (江宏傑, Jiang Hong Jie) is the eldest son of JiangFamily and the main antagonist of The Sound of Happiness. He seemingly succeeded in the desires of seeking revenge for his mother through ruining the marriage between ZhiWen and YunRu[3][4] but loses the chairman position of WorldGroup after JiaWen (CoCo) manipulated his childhood affection to her[5]. After losing the election for General Director, he forces FangZi into bankruptcy and ended JiaWen's marriage with JianHua. As his crimes in achieving greater reputation were exposed due to the alliance between ZhengHao (HaoTian) and ZhiMing, he willingly faces the law with persuasions from his late mother and ending his feuds with LinFamily.
Personality
"I'm telling you, whoever betrays me, he will face the consequences. Whoever deceived my feelings, I will claim their life!"

―HongJie to JiaWen, episode 183.
Negative Influences from LiMei
In his youthful days, HongJie was a compassionate-hearted person who willingly showed care regarding the well-being of others. However, with the amoral teachings from his mother, HongJie turned into a sadistic individual who even hurt the lives of his enemies without showing remorse to achieve his goals and attaining greater reputation in the business world. This stemmed from his dedication to seeking revenge against LinFamily for the sake of LiMei. Though the latter's narcissism in interfering with the decisions HongJie made in life was the main source of frustration between HongJie's relationship with his mother. In spite of his intolerance towards betrayals from his underlings, he does not fulfill his promises and was only keen to manipulate the inferiority and the desires of hatred from others in order to achieve his goals. On a greater extent, he has a clear underestimation over the strengths of family bonds and often took advantage of the weakness of such bonds in his desire for revenge. This was proven when he had ignored the kinship with CanTang and his younger sisters to the point of seeing them as his enemies. He even deems them responsible for leading down the feelings of LiMei. While standing on the position of JiaWen (CoCo) and YunRu with the exception of some, both of them were capable of overcoming the adversities from HongJie due to their retained conscience and family bonds. As a result, he has resorted to despicable attempts to achieve success and was often, and easily outsmarted by his main foes; ZhiMing and a redeemed ZhengHao (HaoTian).
Purpose in Life
He mainly sees himself as emotionless, only finding his own life and goals of vengeance worthwhile after his encounter with CoCo, turning his grief of hurting the original JiaWen into winning the heart of the former without knowing both of them are the same person. He initially retains his purest intentions towards love, which later becomes an unhealthy obsession to the extent of being possessive and perversion towards JiaWen and treating her as an unacceptable excuse for his villainy acts. As JiaWen had tampered with his feelings for hurting her closed ones, HongJie has failed to see his mistakes and his actions had exactly paralleled what he had previously done to YunRu and her family, he came to the conclusion that investing time in love is meaningless.
Post-betrayal from JiaWen
HongJie completely discarded his conscience and demonstrated more of his qualities as a sadist nearing the finale parts of the drama. He revered in bringing out the greatest suffering within JiaWen, having voluntarily achieved that through humiliating JianHua and ZhengHao, as well as dragging in TieGe into the matter. Even after severing his relationship with YunRu, HongJie has shamed her parents by mocking her for engaging romantically with him in the past and stirring up tensions from the past relationship between BaLa and KunMao. This shows that HongJie was unwilling and jealous of seeing both of them getting the marriage of happiness they had yearned for. At the same time, HongJie seeks personal amusement to watch conflicts between the peaceful friendships between his enemies. In the finale, his filialness to LiMei drives his determination to turn over a new leaf and improving his mother's living in the afterlife after coming to understand how his wrongdoings had negatively impacted her.
Relations
Friends
None
Enemies
Trivia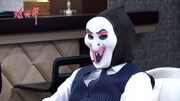 He was given the nickname Little Crow (小鸽子

).

The other alias he used in the drama was K Dong (Kenny) (K董); an identity which his father used and also Boss Ah Ben (阿本老大)/Chen Wan Li (陳萬里).[6]
References