Jurassic World: Dominion Dominates Fandom Wikis - The Loop
Play Sound
He Xin Di (何辛帝, He Xin Di) is a famous musician and was the cameo character/female protagonist in episodes 6-18 of The Sound of Happiness. She left her initial lover ZhiMing due to illness under AhMei's pleading and during her return, she decided to give the former and JiaYun her blessings in their relationship.
Personality
Introduced as an optimistic person, having a bright future and inspiration musician.[1] She had an irreplaceable love towards ZhiMing, providing her with resilience and overcoming her illness alone, was initially disheartened with AhMei's disapproval and seeing JiaYun and ZhiMing interactions. Nonetheless, she showed an unselfish demeanor, the resolve of winning back ZhiMing's heart and firmly rejecting the former and JiaYun sympathetic with herself due to guilt. As a result, she portrayed the courage in withdrawing from her past relationship, allowing ZhiMing and JiaYun to recognize their feelings of each other.
Relationship
Unnamed Father: The chairman of an entrepreneur company, which is on par with World Group. Her parents departed overseas prior to the series.
Unnamed Mother
Friends
Enemies
History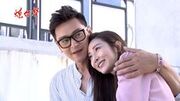 XinDi first appears in episode 6, demonstrating her skills once more, before encountering JiaYun, she convinced Andrew and performing for World Hotel's upcoming concert and pleasing an unsatisfied customer. Seeing the interactions between ZhiMing and JiaYun and AhMei wanting her to leave, she was disheartened and even more when ZhiMing responded harshly during their remeeting. Eventually, with MingZhu's persuasion, she decided to win back the love from ZhiMing. When JiaYun knew her past from XinDi's conversation with GuoHui earlier and demanding her to hide it
before finally receiving ZhiMing's forgiveness. During her reconciliation with ZhiMing upon knowing her illness, she recognized her lover's feelings for JiaYun after the former saved the latter from BaoNa and not wanting both to feel apologetic for herself, XinDi exits the relationship and fulfilling ZhiMing and JiaYun's wishes of becoming together. Following this, she resumed normal lives while returning back to USA. Before that, she told HuiXin and AhMei about her decision and warned YanXi regarding ZhengHao.
Trivia
Her surname is revealed in episode 18.
She's afraid of eating onions.
She was credited alongside DaWei.
According to ZhiMing, XinDi is confirmed to be 31 years old, putting her to be born in 1988 and being the same age as JiaYun.
Gallery
References